Description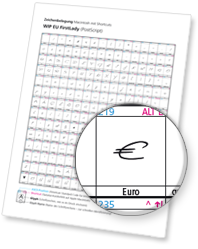 WIP First Lady
WIP FirstLady depicts the handwriting of a young woman with a consequent stroke representing ambition, open mindedness and talent.
The (lower case) characters are joined as it is usual in German speaking countries. Originally designed in 1995 the font has been extended by a lot of new characters such as accented characters, punctuation, symbols and currency symbols.
You can download a PDF with all characters and all shortcuts to each glyph (for Mac and Windows) here.
WIP – Write It Personal